Data entry is a very important task performed by businesses. It should be done with great care to reap rewards in the longer run. However, many companies do not give it the necessary attention for one reason or another. Some consider it to be too easy and assign it to just about anyone. This results in the creation of erroneous databases that are completely useless. It becomes hard to derive business-critical insights using Business Intelligence (BI) tools. Also, wrong data entry impacts several departments. For example, in an ecommerce business, you won't be able to make a good impression on your clients if he catalog is ridden with errors. Therefore, it is important to take data entry services very seriously and assign it to meticulous and skillful employees.
Essential Skills Required for Data Entry Services
Just like any other process, data entry services also require certain specific skills for their rightful execution. Have a look:
Basic computer knowledge: Almost all data entry work is performed on the computer. Therefore, it is essential that employees assigned to this task have basic computer skills.
Fast typing: Data entry work involves inputting large amount of values into a database. So, the people performing this work should have above-average typing speed.
Time management skills: More often than not, data entry work is a race against time. The employees should be good at utilizing the time they have on their hands. Long breaks and frequent rest periods can break the flow of data entry. An experienced data entry services provider is good at overseeing the work performed by the employees. If you are unable to manage the work in-house, it is better to pass it on to a reliable data entry service provider.
Good communication skills: In case of discrepancy in data, it is essential that the agent verifies the available data. For this purpose, he might have to communicate with other departments. Therefore, he/she should be good at verbal and written communication.
Eye for detail: Performing data entry for long duration can cause focus loss, which might lead to errors. Thus, it is essential that agents have an eye for detail. People performing data entry should be able to spot the smallest of errors without fail.
Ability to multitask: Performing data entry may require you to look up multiple sources at the same time. If agents are not good at multitasking, they will not be able to finish the work as per the desired standards. So, either the speed will be compromised or errors will creep into the work.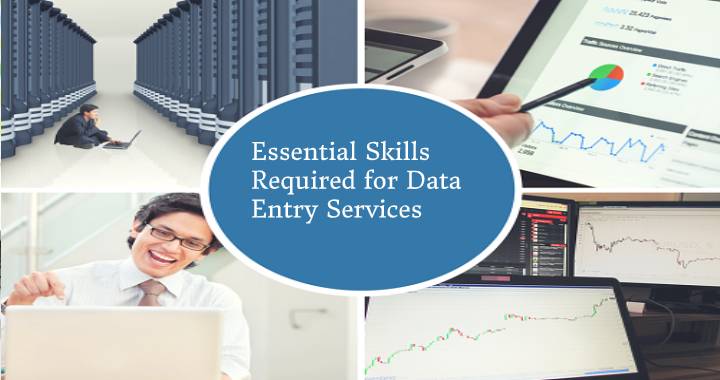 Partner with data entry services provider for Accessing Best Talent
To get positive results from the data entry endeavor, you need an experienced in-house department. If you don't have it, then it is better to outsource the work to a capable data entry services provider like Back Office Centers. Below are some advantages of outsourcing data entry to a competent vendor:
Instant returns on investment
When you outsource to someone who is well-equipped to handle your data entry process, you get instant results. There is no need to wait on tasks like CV screening, job interviews and training sessions.
No capital investments
A lot of resources that are required for data entry are permanent in nature. You have to make considerable capital investment in procuring the resources that are vital for data entry e.g. CRM, IVR, real-estate, networking infrastructure.
Time-tested expertise
There are many situations that may appear challenging for a new in-house process. But, the same situations are faced and overcome many times by a veteran data entry services provider.
At Back Office Centers, we have long-term experience in data entry field. And, we are ready to handle a data entry operation of any scale.